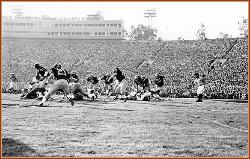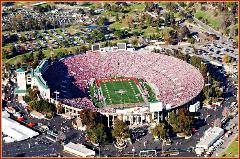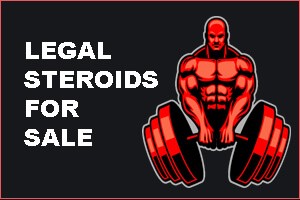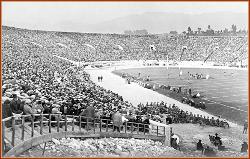 The stadium was named the Hoosier Dome until 1994 when RCA paid $10 million for the naming rights for 10 years, with two five-year options to
RCA at a cost of $13.5 million if invoked. Currently, the stadium seats 57,980 for football. Modifications were made to the stadium in 2001 to
expand the suites and add club seating. Prior to that, the maximum seating for a football crowd was 60,272. The dome was officially dedicated on
September 8, 1984 as a sold-out crowd witnessed the Purdue Boilermakers defeat the Fighting Irish of Notre Dame.

Basketball is also played at the RCA Dome. The first game played there was an exhibition game in 1984 between an NBA All-Star team led by
home-State hero Larry Bird and the United States Olympic Men's Basketball team, coached by Bob Knight, who was at the time the coach of
Indiana University. The dome also served as the site of the NBA All-Star Game in February of 1985. Since then it has hosted many NCAA Men's
Division I Basketball Championship games, including four Final Fours (1991, 1997, 2000, 2006). The NCAA, whose headquarters are in
Indianapolis, has committed to holding the Final Four in Indianapolis once every five years. The RCA Dome hosted its first Women's Final Four
in 2005. In addition, it has hosted the Indiana High School Athletic Association's annual boys and girls championships, and served as one of two
sites for the FIBA Men's World Basketball Championship Tournament in 2002, sharing the honors with Conseco Fieldhouse, the home of the
Indiana Pacers. Additionally, the RCA Dome is the site of the Indiana State School Music Association State Marching Band Competition, the
Bands of America Grand Nationals, and the Drum Corps International Midwestern Regional. The dome also served as host venue to the World
Wrestling Federation's WrestleMania VIII in 1992.

The RCA Dome was the site of the last NFL game played on AstroTurf (and any carpet-style artificial turf), during a playoff game between the
Colts and the Denver Broncos on January 9, 2005. FieldTurf was installed for the 2005 season.

The venue hosted its first AFC championship game when the Colts beat the New England Patriots on Sunday, January 21, 2007.