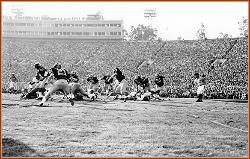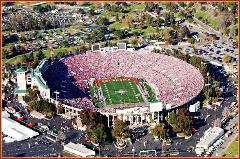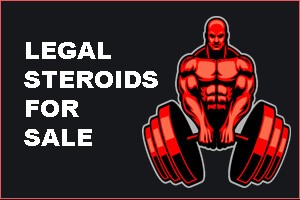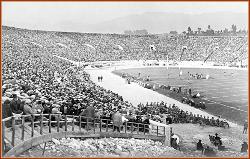 Gerald J. Ford Stadium is a stadium in University Park, Texas, one of the two "Park Cities" that form an enclave of Dallas. The stadium is used
primarily for football, and it is home to the Southern Methodist University (SMU) Mustangs.

The building stands on the site of the former Ownby Stadium, the school's previous on-campus football stadium. Ownby was demolished starting
in late October 1998 in order to clear the land designated for the new stadium. Ford Stadium opened on September 2, 2000 with a football game
against the University of Kansas. The north-south oriented stadium is bowl-shaped, with stands on three sides (west, east, and north). SMU can
one day develop south side seating, extending the stadium's seating capacity to 45,000.

The stadium is named after Gerald J. Ford (who should not be confused with US President Gerald R. Ford), a billionaire banker who provided
most of the funding for its construction.

Outside the northeast corner of the stadium is Doak Walker Plaza, honoring the former Heisman Trophy winner and SMU's greatest football star.
The plaza includes a life-sized replica of the Doak Walker Award trophy, awarded annually to the nation's top college football running back. The
northwest corner is connected to the Loyd All-Sports Center, which contains locker, training, and office space for SMU athletics, as well as the
Spirit Shop, the office of the Alumni Association, and the Athlete Education Center.

On September 4, 2004, the attendance record was set at Gerald J. Ford Stadium when 34,495 people watched the Texas Tech Red Raiders face
off against the SMU Mustangs. Texas Tech won the game 27-13.