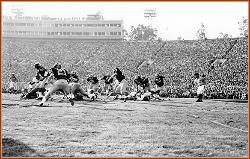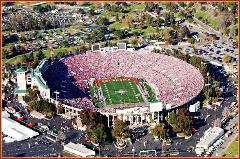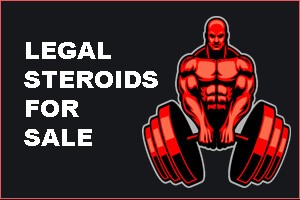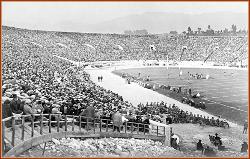 The Minnesota Golden Gophers football team began playing in the Metrodome for the 1982 season. Attendance was expected to increase over
the old Memorial Stadium attendance, especially for late fall games, due to the climate controlled comfort. At the time it was also believed that
the new NFL venue would be a recruiting benefit for the Gophers. The Gopher teams have struggled in the Big Ten Conference since the
1970s. Gopher football games rarely fill the Metrodome to capacity except when nearby rivals visit, the Wisconsin Badgers and Iowa Hawkeyes.
Although, average attendance did increase over previous seasons at Memorial Stadium. Students are taken by bus from the campus to the
stadium. The setting is also removed them from the traditional on-campus atmosphere.

The University of Minnesota plans on moving to TCF Bank Stadium for the 2009 football season. The University believes an on-campus stadium
will pep up its student base for increased ticket sales. An on-campus stadium would also benefit athletic revenues, not only for the football
program, but the non-revenue sports as well. The University-only stadium is expected to cost less than half of a NFL-quality football stadium.
The new stadium will be built on surface parking lots just a few blocks east of the former Memorial Stadium, with the naming rights purchased by
TCF Bank. The University of Minnesota is expected to raise more than half the cost of the stadium via private donations. The Gopher stadium
bill was passed by both houses on May 20, 2006, the day before the Twins stadium bill passed. On May 24, 2006, Governor Pawlenty signed
the Gopher bill on the University campus.