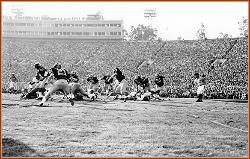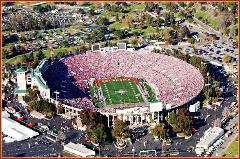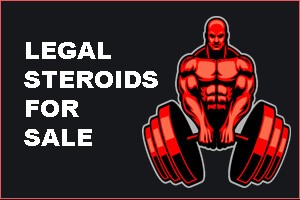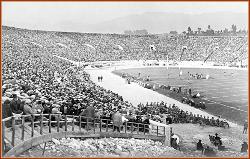 Ebbets Field was on the block bound by Bedford Avenue, Sullivan Place, McKeever Place, and Montgomery Street. Club owner Charlie Ebbets
acquired the property over several years, starting in 1908, by buying parcels of land until he owned the entire block.

The park opened on April 9, 1913, replacing the old Washington Park. It was the scene of some early successes, as the "Robins" (so-called for
long-time manager Wilbert Robinson) won league championships in 1916 and 1920. Then the team slid into some hard times for a couple of
decades, until new ownership brought in first promotional wizard Larry MacPhail (in 1938), then, after MacPhail's wartime resignation, player
development genius Branch Rickey (in 1943). In addition to his well-known breaking of the color line by signing Jackie Robinson, Rickey's savvy
with farm systems produced results that made the Brooklyn Dodgers "Bums" a perennial contender, which they would continue to be for decades
to come.

The Dodgers won pennants in 1941 (under MacPhail), 1947, 1949, 1952, 1953, 1955 and 1956. They won the 1955 World Series (the first and
only world title in Brooklyn Dodger history), and were within two games and a playoff heartbreak of winning five NL pennants in a row (1949-53).
Ebbets hosted the 1949 Major League Baseball All-Star Game.