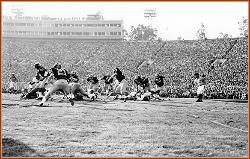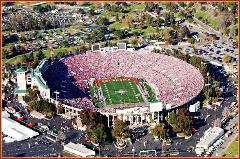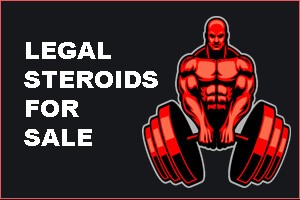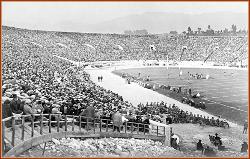 Robert F. Kennedy Memorial Stadium, informally known as RFK Stadium (or just RFK), is a professional sports stadium in the United States.
Opened in October 1961 as D.C. Stadium, RFK was the home of the NFL's Washington Redskins for 36 seasons, from 1961 through 1996. The
Redskins moved to FedExField in suburban Maryland for the 1997 season. RFK Stadium also served as the home to the expansion Washington
Senators of the American League from 1962 through 1971. For the 1972 season, the Senators moved to Arlington, Texas and were renamed the
Texas Rangers, after the state-wide law enforcers of that same name. RFK now serves as the home of D.C. United of Major League Soccer and
the Washington Nationals of Major League Baseball's National League. Concerts featuring renowned rock bands and performers still take place
at the stadium. It has also hosted soccer matches in the 1994 FIFA World Cup and 2003 Women's World Cup.

The stadium was renamed for U.S. Senator and presidential candidate Robert F. Kennedy in January 1969, who was slain in Los Angeles the
previous June. As Attorney General, Kennedy's Justice Department played a role in the racial integration of the Redskins, threatening not to let
the team move into the federally-owned stadium until it promised to sign African American players.

A complex conversion is necessary, at a cost of $40,000 per switch, to move the stadium seating from the baseball to the soccer/football
configuration and back again. This includes rolling the 3rd-base lower-level seats into the outfield along a buried rail, dropping the hydraulic
pitcher's mound 3 feet into the ground, and laying sod over the infield dirt. RFK was the first major stadium designed specifically as a multisport
facility for both football and baseball - subsequent facilities have been adjusted for this problem in order to be able to change their seating
configuration much more quickly and at a lower cost. In 2005, the conversion was made over 20 times.

It is the 4th oldest active stadium in Major League Baseball behind Wrigley Field, Fenway Park and Yankee Stadium.

The stadium is expected to be demolished after both the Washington Nationals and D.C. United move into their new stadiums.


Links

Info on the new Stadium for the Nationals

Construction Photos of the new Nationals Stadium