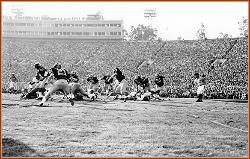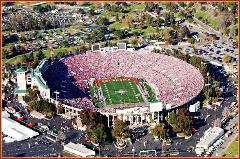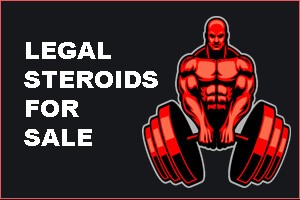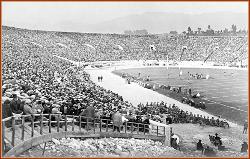 Big Ten
Michigan State University Spartans
Breslin Center (1989 - Current)

History
The Jack Breslin Student Events Center was named in honor of Jack Breslin, a Battle Creek native,
who served his alma mater, Michigan State University, as a distinguished student leader, honored
athlete, top administrator, and relentless advocate. His personification of the Spartan spirit and
innovative leadership played a pivotal role in the growth and development of the nation's first land-
grant university. In 1969, Jack was one of the first administrators to initiate planning for a multi-
purpose, student facility and continued to be the leading force through the conceptual design. Prints
of such a design were completed in January 1970 and featured such innovations as an extra
"practice gymnasium," and a dedicated space for male and female performers. After years of
discussion and revision, construction on the Center commenced in July 1986 with the Jack Breslin
dedication following on November 9, 1989. Jack Breslin held many administrative roles and
received numerous honors for his selfless public service and civic pride. He will always be known
and remembered by the title bestowed upon him by students, journalists, governors, and university
presidents alike: "Mr. MSU."

Expansion
An expansion was completed in Fall 2001, adding two additional 8,000 square foot auxiliary gyms and new office space for the Men's and Women's Basketball
teams. The addition was named the "Berkowitz Center" for the late Alfred Berkowitz, a business leader, U.S. Army veteran, and pharmacist from Southeast
Michigan, whose private foundation pledged more than $2 million toward the project.

A statue of Magic Johnson was erected before
the 2003 season to honor one of the greatest
Spartan basketball players.

Breslin under construction in 1987.

The first ten rows contain the Izzone, a synchronized student cheer sections
that can rattle the opponents. The Izzone can easily be seen in the photo
above, they all wear white shirts.

The original design of Breslin Center contained bleacher seats for the first 12
rows. But after numerous complaints from boosters who sat in the 13th row
(1st row of backed seats) that could not see over the standing crowd, new
bleachers were installed that only contained 10 rows.

Breslin Success
The move to Breslin apparently paid off for the Spartans. Since moving to the Breslin Center, the Spartans have won 5 Big Ten titles, and have been to 4 final fours
and won the National Championship in 2000.

The Izzone
The Izzone is a section of students at Michigan State University men's basketball home games. Named for head coach Tom Izzo, the Izzone wraps around much
more than three-fourths around the bottom tier of the Breslin Center, in addition to many more students in the upper level of the arena. With nearly 4,000 members
cheering on the MSU Men's Basketball team, the Izzone helps to give the Breslin Center an exciting and intimidating atmosphere, and a considerable home-court
advantage. It also promotes a positive image of Michigan State University and its student body. In 2006, it was ranked fourth in a list of the top college basketball
student sections by Sports Illustrated's SI on Campus magazine.

Notable Izzone Chants

Grand-pa Set-tels Clap Clap Clap-Clap Clap
(Jess Settles, Iowa)

Old Man Ev-an Clap Clap Clap-Clap Clap
(Evan Eschmeyer, Northwestern)

Shoulda-left-last-year Clap Clap Clap-Clap Clap
(Louis Bullock, Michigan)

Ok-ey hol-loic Clap Clap Clap-Clap Clap
(Sam Okey, Iowa & Wisconsin)

Tar-vers Stu-pid Clap Clap Clap-Clap Clap
(Miles Tarver, Minnesota)

Tar-vers Ug-ly Clap Clap Clap-Clap Clap
(Miles Tarver, Minnesota)

We Own Cris-ler Clap Clap Clap-Clap Clap
(At Crisler Arena vs michigan)

Se-ven Walk Ons Clap Clap Clap-Clap Clap
(At U of M)

We Can't Hear You! Clap Clap Clap-Clap Clap
(In response to the Maize Rage at Crisler)

Your Mom Swallows!
Clap Clap Clap-Clap Clap
(Brett Petway, Michigan)