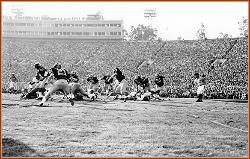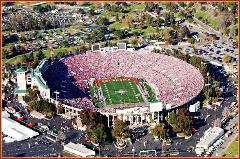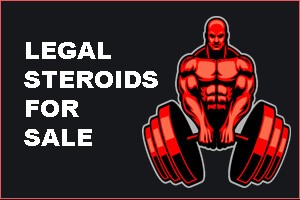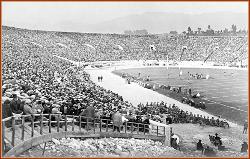 Bryce Jordan Center
The arena is named after former Penn State University president Dr. Bryce Jordan who
was instrumental in acquiring the funding needed to build it.

Ground was broken for the Center back in 1993. Due to one of the worst winters in
Penn State history in 1994, construction was set back several months. Bobby Knight,
basketball coach at Indiana University, visited the university during the construction
and said that it would take a "construction company from Mars" to finish the Jordan
Center on time. However, with the help of a mild winter in 1995 and about two years of
construction, this state-of-the-art, 400,000 square foot multipurpose building became
reality on January 6, 1996.

"We have planned for a multipurpose facility, one which addresses the inadequacies of
current University facilities for academic convocations, cultural events, athletic events,
conventions, concerts, alumni functions and other such event," former Penn State
president Dr. Joab Thomas said.

The Bryce Jordan Center is home of Penn State basketball and was built to meet team, patron and media needs. "In a perfect meeting of time
and place," one reviewer of the home opener for Penn State Hoops wrote, "14,852 folks came out of the cold last night to see an unbeaten
Penn State open a fabulous new arena, the Bryce Jordan Center. They waited respectfully to be let in at 6:00pm. When the fans got inside,
they saw an arena with wonderful sight lines from the highest seat to the most distant corner.

In addition to basketball, this versatile center was designed to accommodate a variety of groups and events, from a twenty person meeting to a
banquet for 1,600 to a concert with 15,000 guests.

The quantities of materials used in the construction are staggering: 3,100 tons of structural steel, 26,000 cubic yards of concrete and 5,600
tons of precast concrete (seating). The highest point from the floor to the roof is 126 feet.

VIP boxes, a top-of-the-line computer controlled rigging system, meeting and function rooms and the goal of a "Disneyland atmosphere" when it
comes to customer service was designed to help make the Bryce Jordan Center a showpiece among other university and multipurpose
facilities. "From a university standpoint this gives us a facility to use for university functions and athletics," said Bill McKinnon, former
vice-president for business and operations at Penn State. "But we're also looking for it to become a civic center for the middle of this state. We
wanted to build a facility that not only served the university's needs, but also the region's needs."