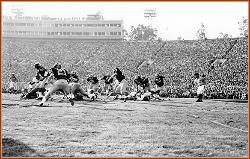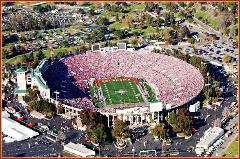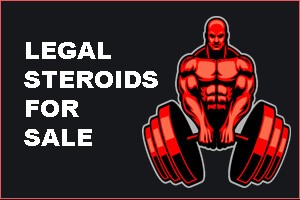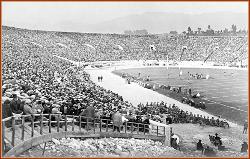 Bud Walton Arena (also known as the Basketball Palace of Mid-America) is the home to the men's and women's basketball teams of the
University of Arkansas, known as the Razorbacks (men) and Lady'Backs (women). It is located on the campus of the University of Arkansas in
Fayetteville, Arkansas and has a seating capacity of 19,200, which is the fifth largest for an on-campus arena in the United States.

The arena has been the home to the Razorbacks and Lady'Backs since November of 1993; the men's team won the national championship in the
arena's first season of operation. The previous arena in which both teams played, Barnhill Arena, was renovated into a volleyball-specific facility
and now houses the Lady'Backs volleyball team. Bud Walton Arena has more seats in less space than in any other facility of the same type
anywhere in the world.

The past few years have brought a number of enhancements and improvements to the arena. In 2004, a new custom scoreboard was debuted
which is 24 feet, three inches wide by 22 feet tall, features four video screens, each 12 feet, six inches wide by eight feet, 10 inches tall. (Also,
there is an LED ring at the top that is used to display game statistics.) In 2005, the locker rooms were remodeled, and a lounge and meeting area
were added.

On April 30, 2007, the University of Arkansas announced the expansion of Bud Walton Arena in the form of addition of 12 luxury suites. The
addition of these boxes will expand seating to 19,368.

The arena is named after James "Bud" Walton, cofounder of Wal-Mart, who donated a large portion of the funds needed to build the arena.