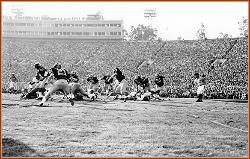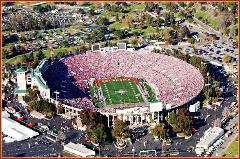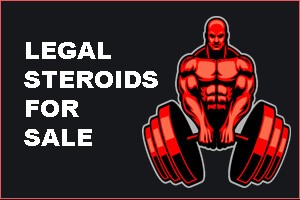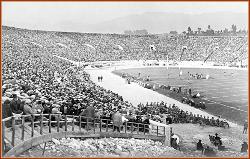 Allen Fieldhouse

Named after the Kansas coach of 39 years, Dr. F.C. "Phog" Allen. The storied
fieldhouse opened on March 1, 1955. Allen Fieldhouse has gone thru major upgrades,
but has tried not to lose its lore or historic feel. The upgrades to the complex include a
new scoreboard, sound system, lights, windows and painted bleachers.

The new Booth Family Hall of Athletics has been added to the east side of Allen
Fieldhouse. This $8 million addition, which is 26,000 square feet, opened in January of
2006.

Allen Fieldhouse is considered one of the best basketball arenas in the world. Sports
Illustrated named it the most underrated college basketball arena. Don't tell that to
Oral Roberts, they beat Kansas in Allen Fieldhouse during their home opener for the
2006-07 season.

Capacity is currently 16,300. This makes it the second largest basketball arena in the
Big 12 conference. More than 7,000 seats are reserved for the students. Having an
arena this large enables the university to allot that large of a quantity of seats to the
students. The students make this arena one of the rowdiest in the nation. The
capacity for the first game in 1955 was 17,228. But they were packed for the first
game against Kansas State, in which the Jayhawks won 77 - 67.

Allen Fieldhouse has also hosted several NCAA tournament regionals, NBA exhibition
games, and occasional speakers and concerts.

Kansas won 62 consecutive games at the Fieldhouse between January 30, 1994 and
November 21, 1998. This mark exceeded the previous school record of 55 games,
which lasted from February 22, 1984 through January 30, 1988.

Max Falkenstien was a stalwart figure in the radio booth, working every home game in
Allen from its construction to his retirement in 2006, nearly sixty years later.

Prior to playing at Allen, the basketball team played at Hoch Auditorium, their home
from the beginning of the 1927 season to the end of the 1955 season. Before that, the
Jayhawks played at Robinson Gymnasium, whose design was heavily influenced by the
advice of Dr. Naismith, was razed in 1967 and is now the site of Wescoe Hall.