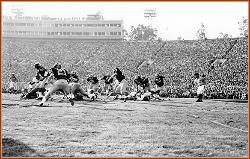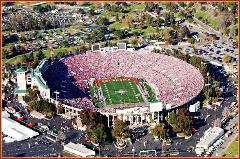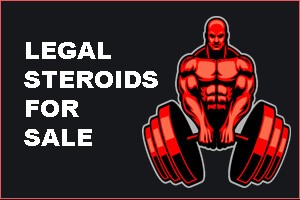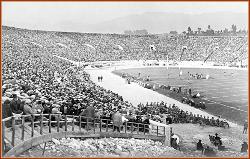 Boone Pickens Stadium
In this striking Master Plan, upper and lower decks offer chairback andbleacher seating,
as well as a special club level and skybox suites.Along with refurbished amenities on the
ground level, a new upperconcourse will add convenience with ample concession areas,
restroomsand novelty stands. The existing pressbox will be replaced by a modernfacility
with plenty of space for broadcast and print media, as well asfor coaches.

With attractive architectural elements and landscaping, the bowled-instadium offers
aesthetic beauty outside and keeps crowd noise inside -boosting OSU's home-field
advantage. While seating capacity is currently 47,500, this modern stadium will seat about
53,000 following Phase I ofthe project, with the capability of future expansion to as many
as73,000.

Ultimately, the size and scope of the stadium project are dependent onfundraising efforts
and demand, with construction planned in severalphases as revenue becomes available.
The sale of Club Seats and luxurysuites will constitute a major aspect of the stadium
funding.

CLUB SEATS OFFER PREMIUM EXCITEMENT
Cowboy fans will soon experience new levels of pride, upscale comfortand entertainment
at Boone Pickens Stadium. With spacious accommodations,exclusive "members only"
amenities, and a festive, indoor atmospherereminiscent of a sports-themed restaurant,
OSU's stadium Club Seats willsurely become the hottest ticket in town. Reserve your Club
Seats nowand take your gameday experience to the Next Level.

CLUB LEVEL AMENITIES
Upscale food & beverages
Sports-themed club
Wider seats
Increased leg room
Armchairs with cupholders
Indoor/outdoor views
Climate-controlled areas
Great view of entire playing field
Private access
Separate Club Level restrooms
TV monitors & sound system
Quality POSSE Parking near stadium
Access for other events year-round
Special "members only" perks

History
Boone Pickens Stadium, formerly known as Lewis Field, is home to the Oklahoma State
University college football program. Boone Pickens Stadium, the home of Oklahoma State
Football, is a far cry from what the student body expected when they were renaming the
field before the 1914 football season. Lewis Field, much like the Cowboy football program,
was left largely neglected and enjoyed only modest renovations throughout its near-
century of existence. However, this all changed in recent history. With the resurgence of
Cowboy football sparked by the 2001 16-13 victory over Oklahoma in the annual Bedlam
game and the subsequent 2002 Houston Bowl season, interest soon returned to a major
overhaul of Lewis Field. An ambitious fund-raising project for the Lewis Field renovation
dubbed "The Next Level" became the flagship efforts of the Oklahoma State athletic
department.

In 1914, the student body named the "Athletic Field" after Lowery Laymon Lewis. A former
dean of veterinary medicine and of science and literature from Oklahoma A&M, Dr. Lewis
was one of the most popular figures in the school's history.

In addition to his duties as dean and instructor at OAMC, Lewis served as the school's
acting president in 1914. Instrumental in the development of experimental stations around
the state under his brief administration, OAMC established the first school of commerce
and marketing in the nation.

"Doctor Lew" was highly respected by the school's student body, which named the football
field "Lewis Field" in his honor prior to 1914. The university's first yearbook from 1914 is
dedicated to Dr. Lewis. While the playing field bore his name (thus two references as
Lewis Field and Lewis Stadium), OAMC installed grandstand seats in 1920, pushing
capacity to 8,000. The stadium originally was positioned in the traditional north-south
direction, but switched to east-west to avoid the strong prevailing winds.