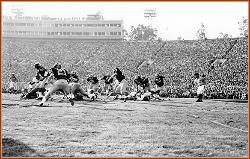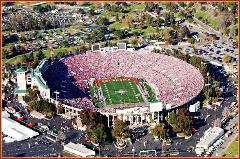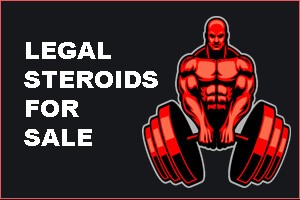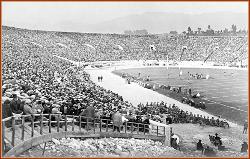 Memorial Stadium at Frank Howard Field

History
Clemson Memorial Stadium is named for the many
Clemson alumni who have served in the U.S. military. The
stadium was opened on September 19, 1942, against
Presbyterian College, with 20,000 in attendance. Clemson
won the first game 32-14.

Much of the groundwork for construction was done by football players and other
scholarship athletes. Clemson's legendary coach, Frank Howard, said that seeding the
grass was a challenge. "About 40 people and I laid the sod on the field. After three
weeks, on July 15, we were only half way through. I told them that it had taken us three
weeks to get that far, and I would give them three more weeks' pay for however long it
took to finish the job. I also told them that we would have 50 gallons of [Clemson]
ice-cream when we got through. After that it only took them three days to do the rest of
the field. Then we sat down in the middle of the field and ate up all that whole 50
gallons."

Death Valley
The term "Death Valley" comes from the fact that the field is physically situated in a valley. Two additional facts add to the mystique. First, the
university cemetery sits on a hill that once overlooked the field before the upper decks were constructed. The other reference comes from the
late Lonnie McMillian, the former football coach at Presbyterian College. He used to take his teams to play at Clemson, where they rarely
scored, nor gained a victory. He once told sports writers he was going to play Clemson up at Death Valley because his teams always got
killed. The nickname stuck to an extent, but when Frank Howard start calling it that in the 1950s, the nickname really caught on.

Running Down the Hill
"Running Down the Hill" is a tradition for Tiger Football players and fans and
has been deemed the most exciting 25 seconds in college football. The team
gathers at the top of the Hill, rubs Howard's Rock, and charges the field to the
roar of over 80,000 cheering fans and the University's fight song.

When you get to the bottom, its like you're in a hole and all around you are
nothing but Clemson fans. It's like the crowd is one big voice. You feel like tiny
kings," said Tiger tailback Rodney Blunt.

David Treadwell, a 1987 All-American placekicker for Clemson said, "Clemson's
record at home is not a coincidence. Running down the hill is a part of that
record. You get so inspired, and so much of college football is about emotion.
You get out of that bus and you hear the roar of the crowd and it gives you
chills up and down your spine."

"Running down the hill is still talked about everywhere I go," said Jerry Butler, an All-American on the 1978 team who
went on to a lengthy pro career with the Buffalo Bills. "Players who played against Clemson when I was in college
always remember us rubbing that rock and thinking we would gain some type of spirit coming down that hill. The
adrenaline rush was unbelievable for a Clemson player and it was quite a shock for the opponent."

Howard's Rock
In 1964, a Clemson student (class of 1919) named S.C. Jones, went to California and stopped in Death Valley, CA, and found a white flint
rock which he brought back with him. The rock was presented to Coach Frank Howard as "being from Death Valley, CA, to Death Valley
South Carolina." Howard didn't care about the rock and it was used as a door stop in his office. In September of 1966, Coach Howard was
cleaning out his office and proceeded to tell his assistant "I dont care what you do with it, just get this rock out of my office." It was then
placed on a pedestal at the top of the hill, a gameday in which the Tigers managed to come back from an 18-point deficit with 17 minutes
remaining and win by five points against Virginia.

The legend states that a player is allowed to rub "the Rock" if they are going to give 110%. Coach Howard was quoted as saying "if you are
going to give a hundred and ten percent you can rub my rock ... if you are not going to give a hundred and ten percent, then keep your filthy
hands off my rock". Frank Howard has never said this, but the legend is still told to new freshman football classes.

In 1992, students from the University of South Carolina snuck into the stadium and tried to steal the rock with little success. The next day,
Steve Taneyhill led the Gamecocks to victory over the Clemson Tigers in one of the biggest rivalry games in college football.

It is now a tradition for the Clemson Army ROTC to "protect" the Rock for the 24 hours prior to the South Carolina - Clemson game when held
in Death Valley. ROTC cadets beat on trash cans all night prior to the game defending Howard's Rock.