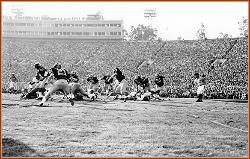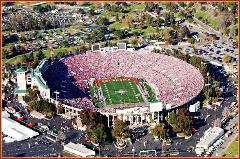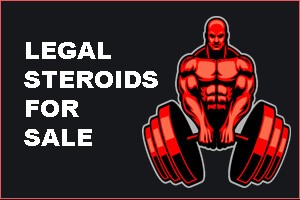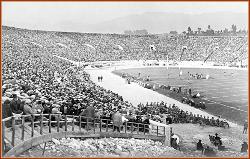 Dix Stadium is a stadium in Kent, Ohio. It is primarily used for American football, and is the home field of the Kent State University Golden
Flashes. It lies at the far eastern end of the KSU campus along Summit Street, just east of State Route 261 and is the center piece of what has
become an athletic complex. From 1997-2005, the field hockey team also played its games at the stadium until a new field hockey stadium was
constructed behind Dix Stadium. The KSU Softball, Women's Soccer, Field Hockey, and Indoor Track teams all play their home matches in
facilities around Dix Stadium. The stadium also hosts the occasional high school football game and served as the host of the 2001 NCAA
Division I Field Hockey Championship. It opened on September 13, 1969 with a win against in-state rival Dayton. It was named in honor of Robert
C. Dix, a member of Kent's Board of Trustees for more than three decades.

The 29,287-seat stadium consists of four separate grandstands on each side of the field. The west side is the largest, and the recently rebuilt
east side (student seating) is the smallest. On either side of the east grandstands are spaces for party tents. Permanent lights were added in
1996. Artificial turf was installed in 1997 and replaced in 2005 with the latest version of FieldTurf. The current scoreboard with a 15x17-foot
video display was added in 1998. Prior to the 2002 season, the east side stands, remnants of the original Memorial Stadium, were demolished.
The current east side bleachers were constructed after the 2002 season and were completed in time for the 2003 season opener. The new
configuration slightly altered the stadium's seating capacity reducing it from 30,520 to the current 29,287.

Future Plans
In June 2007, the university began phase one of a two-to-four year project of renovations and upgrades to Dix Stadium. Phase one includes
painting the north end zone bleachers gold as well as upgrades to the press box and a permanent canopy over the camera areas. New and
improved entryways to the west stands are also being constructed along with a new road to the neighboring field house. Other future plans
include replacing the fencing around the stadium with a brick and wrought iron fence by 2008 as well as removal of the south end zone seating.
In the south end zone, plans call for the seating to be replaced with a grassy hill with a new archway and scoreboard (similar to the setup at
Miami University's Yager Stadium) as well as a message board facing Summit Street. Phase one is expected to be completed by the beginning of
the 2007 home football season in September.