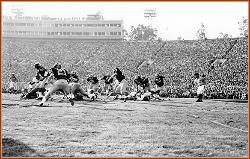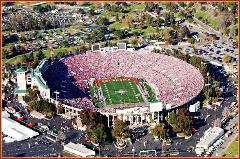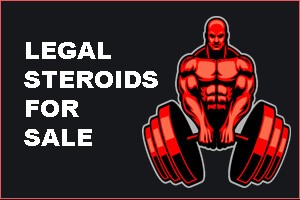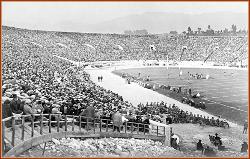 Doyt L. Perry Stadium is a stadium in Bowling Green, Ohio. It is primarily used for American football, and is the home field of the Bowling Green
State University Falcons. It opened in 1966 and held 30,599 people. Seating reductions in the wake of NCAA regulation changes have reduced
the seating capacity to 28,599. On October 8, 1983, the annual Toledo-Bowling Green football game established a school and MAC attendance
record of 33,527.

On October 1, 1966, the stadium opened with a 13-0 win over Dayton. The stadium was named for Doyt L. Perry, a highly successful coach and
athletic director at the school. It was meant to replace University Stadium, a WPA stadium in the heart of campus which lasted 43 seasons. The
stadium consists of two bowed sideline grandstands and steel bleachers in the south endzone, which were added in 1982. Formerly, there were
also bleachers in the north endzone, but they were removed for a pavilion area for parties. Through 37 seasons, the Bowling Green Falcons
enjoyed an impressive 126-58-6 record at Doyt Perry Stadium.

For the 2007 football season the stadium received an upgrade. The newly constructed Sebo Center will enclose the North endzone and house
band seating, luxury suites, offices, training facilities and new box offices.