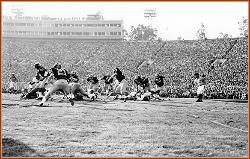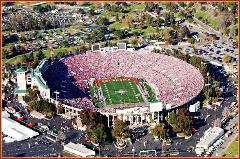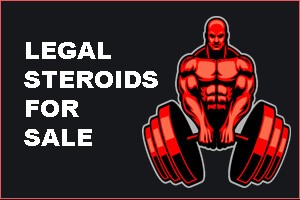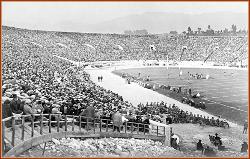 Newcomers to Falcon Stadium will see it as one of the premier college football stadiums in America. Falcon football veterans, on the other
hand, may not recognize the old stomping grounds.

For starters, last season the Academy installed a new scoreboard. The board features a huge video screen and message board and will
replace the old board at the south end of the field.

In 2002, the Academy added permanent lights. The cost of just under $500,000 was at no expense to tax payers. The Air Force Academy
Athletic Association picked up the tab. Musco Lighting of Oskaloosa, Iowa, installed the lights. There is a total wattage of 386,400 watts and
approximately five miles of electronic cable and wire were used in the project.

In 1997, the Academy renovated the field itself. The renovation, which began after the 1996 season ended, lasted eight months at a cost of
$788,000. The entire playing surface and drainage system, which totaled 11,250 tons, was removed and replaced with a state-of-the-art
irrigation system and turf. Randall and Blake, Inc. (RBI) installed the new surface which is similar to the ones they've installed at Texas A&M,
TCU, the Oakland Coliseum, Foxboro Stadium, the Denver Broncos training facility and Coors Field. There are 1.5 miles of underground
drainage pipe and 27 miles of heating cables under the playing surface. Ten miles of electric and communication wires were installed to support
and control irrigation and heating system. The surface itself consists of 2,800 tons of pea gravel which was installed over the original stadium
base and 5,600 tons of "rootzone" which is a specially mixed sand and humus combination. Nearly 350 pounds of specially mixed grass seed
(Kentucky Blue and rye) was then planted. The Astroturf covered concrete pads on both sidelines have also been removed which makes the
stadium more versatile for sports such as lacrosse and soccer.

In 1991, the Academy installed nine skyboxes and remodeled the existing press box. The facility now seats 450 people indoors, along with 88 in
the skyboxes. In addition to its game-day uses, the press box is also used by the athletic department as a banquet/meeting room.

Falcon Stadium was built in the fall of 1962 at a cost of $3.5 million. The stadium, which was built in a natural bowl, has a capacity of 52,480
and stands in the base of the Rampart Range of the Rocky Mountains.

Falcon Stadium opened on Sept. 22, 1962, when a then-overflow crowd of 41,350 saw Air Force defeat Colorado State, 24-0. AFA held a
formal dedication on Oct. 20, 1962, when Air Force hosted Oregon. The Ducks won the game, 35-20.

The stadium was originally built solely for football, but several non-athletic events such as the Academy's annual graduation are conducted
there.