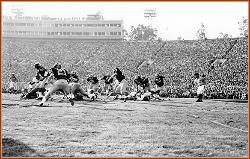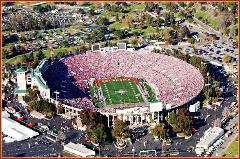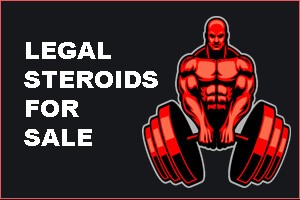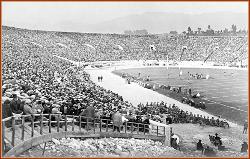 Navy-Marine Corps Memorial Stadium is a stadium in Annapolis, Maryland. It was built as a memorial to the Navy and Marine Corps, and the
stadium is dedicated to those who have served and will serve as upholders of the traditions and renown of the Navy and Marine Corps of the
United States. The thousands of memorial benchback and wall plaques are a constant reminder of this fact, as well as the list of numerous
battles involving the Naval and Marine Corps forces since the early 1900s. It is primarily used for American football, and is the home field of the
United States Naval Academy "Midshipmen". Navy-Marine Corps Memorial Stadium opened in 1959 and holds 35,000 people. The stadium was
dedicated on September 26, 1959, when Navy defeated William & Mary 29-2. On October 14, 2006, a record crowd of 36,918 were in
attendance at Navy's homecoming game in a loss to Rutgers. The Naval Academy also uses this facility for its lacrosse matches. Navy played
their homes games at Thompson Stadium prior to 1959.

The stadium also hosted soccer matches of the 1984 Summer Olympics.

The 2004 stadium renovation by 360 Architecture included an expanded press box, 140 club seats and associated club lounge, private suites,
new stadium seating, ADA enhancements, updated restrooms, concessions and stadium operation facilities, new banquet facilities, and
renovated locker room facilities.