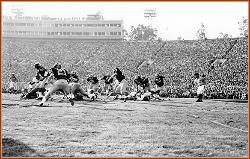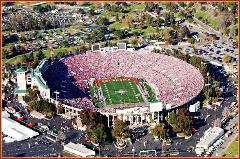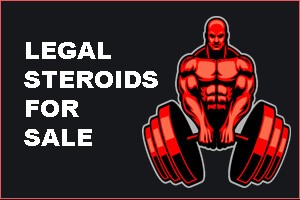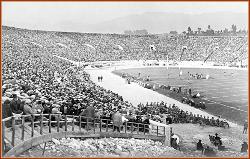 The Miami Orange Bowl is a stadium in the City of Miami,
Florida, west of the downtown area and in Little Havana. It
is the home stadium for the University of Miami Hurricanes
football team. It also hosted the Miami Dolphins until the

opening of Dolphin Stadium in 1987. The stadium was renamed in 1959 for the
Orange Bowl Classic college football game, which was played at the Orange Bowl
following every season from 1937 to 1995. In 1996, the game was moved to Dolphin
Stadium.

Notable Events at the Miami Orange Bowl

First Orange Bowl game (second oldest Bowl Game In US) was played in 1935. where


Bucknell University defeated the University of Miami 26-0



Hosted more than 11 collegiate football championship games, including 3 of the 5


National Championships games for the University of Miami



Hosted the only undefeated NFL home season in 1972. The Miami Dolphins
accomplished first undefeated season in NFL history by going 17-0 and winning Super


Bowl VII.




One of the three Stadiums in the nation to have hosted five Super Bowls



Once produced the biggest field advantage in college football – a record 58 game


winning streak for the University of Miami Hurricanes




Venue for the 1996 Olympics Soccer matches



The Gold Cup soccer tournament will be played at the Orange Bowl Stadium for the 5th


consecutive edition since 1998



Largest crowd to witness any event at the Orange Bowl was in 1995 when 81,753


watched Nebraska defeat Miami 24-17



Largest crowd for a professional football game in the Orange Bowl was 80,298 On
January 18, 1976, to see the Pittsburgh Steelers defeat the Dallas Cowboys, 21-17, in


Super Bowl X



More than 10 movie companies have chosen the facility as their stage for their movie –
Any Given Sunday, Ali, Ace Ventura, Black Sunday, Upclose and Personal, to name a
few…

Location:
1501 NW 3rd St, Miami, Florida 33125


Broke ground:
1936

Opened:
December 10, 1937


Owner:
City of Miami

Operator:
City of Miami


Surface

Natural grass (1937-69)
PolyTurf (1970-75)
Prescription Athletic Turf (1976-present)


Construction cost:
$340,000 USD


Former names:
Burdine Stadium (1937-1959)


Tenants

Miami Hurricanes (NCAA) (1937-2007)
FIU Golden Panthers (NCAA) (2007)
Miami Seahawks (AAFC) (1946)
Miami Dolphins (NFL) (1966-1986)
Orange Bowl Classic (1938-1995, 1999)
Playoff Bowl (1961-1970)
Miami Toros (NASL) (1972-1976)
Miami Freedom (ASL/APSL) (1988-1992)