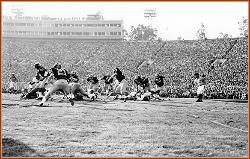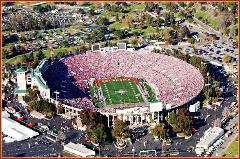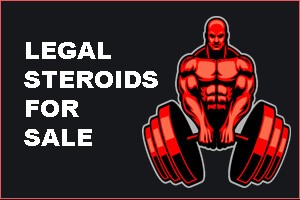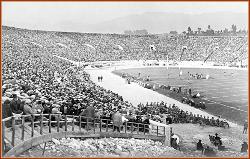 Rice-Eccles Stadium is the football stadium for the University of Utah Utes, located on the university's campus in Salt Lake City, Utah. It was
originally built in 1927 at a cost of $133,000 USD. The 2002 Winter Olympics Opening and Closing Ceremonies were held at the stadium,
renamed temporarily as "Rice-Eccles Olympic Stadium".

The stadium was orginially named Ute Stadium, and opened on October 1, 1927, with a Utah victory over Colorado Mines, 40-6, and was
dedicated on October 22 against Colorado. The seating capacity was 20,000. An additional 10,000 seats were added to the north end in 1947.
Bob Rice gave $1 million USD to the university to renovate the stadium in 1972. Additional seating was added to the south end of the stadium,
new locker rooms and a new press box were added, the playing surface was lowered, and the track was removed. This brought the capacity to
32,500.

The stadium underwent a $50 million renovation beginning in May 1997, which was completed in September 1998. $10 million of the renovation
was donated by Spencer Eccles, through the George S. and Dolores Dore Eccles Foundations. The rest of the funds were raised from private
donations, bonds, and the Salt Lake Olympic Committee. Most of the stadium was demolished for the renovation. Only the south end stands
remained before a brand new facility was built in place of the old structure. The university decided to add the Eccles name to the stadium along
with the Rice family name to recognize the contributions of both the old and new facilities.

FieldTurf is the third surface in Rice-Eccles Stadium's history. When the stadium opened in 1998, it was lined with SportsGrass, a hybrid of
natural grass and artificial turf that the university experimented with from 1995-99. In 2000, natural grass replaced the SportsGrass and was in
place until the end of the 2001 season, when it was covered by blacktop for the Opening and Closing Ceremonies of the 2002 Winter Olympics.

Since 2005, Rice-Eccles Stadium has also been the home of the Major League Soccer franchise Real Salt Lake. It was recently announced that
a soccer-specific stadium for the team will be constructed in the suburb of Sandy.

Just south of the stadium is the Salt Lake 2002 Olympic Cauldron Park.