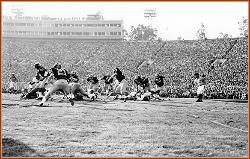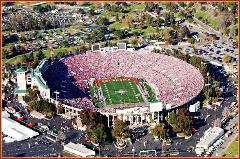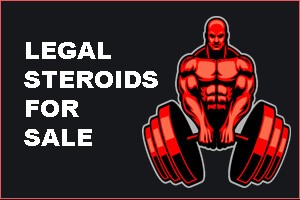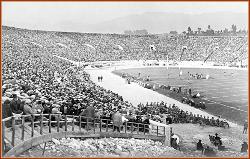 Rice Stadium is a football stadium located on the Rice University campus in Houston, Texas. Completed in 1950, the stadium seats 72,000 in a
lower bowl and upper decks on each sideline. The stadium is the home of the Rice University football team.

Architecturally, Rice Stadium is an excellent example of modernism, with simple lines and an unadorned, functional design. The entire lower
seating bowl is located below the surrounding ground level. Built solely for football, the stadium has excellent sightlines from almost every seat.

In 2006, Rice University upgraded the facility by switching from AstroTurf to FieldTurf and adding a modern scoreboard above the north
concourse. Seating in the upper deck is in poor condition, which led the university to move home games for which large crowds were expected to
nearby Reliant Stadium.

Rice Stadium can also be used as a concert venue, seating 80,000 spectators.

History
The current Rice Stadium replaced Rice Field, which was located where the Rice Track/Soccer Stadium is today. The older stadium seated fewer
than 37,000 fans.

Rice Stadium was subsidized by the City of Houston and built by Brown and Root. The stadium was originally simply called Houston Stadium and
was intended to be shared by Rice and the University of Houston.

In addition to Rice, the University of Houston football team played at Rice Stadium from 1951 to 1965, and the Bluebonnet Bowl was played there
from 1959 to 1967 and again in 1985 and 1986.

Rice Stadium was built before professional football came to Houston, and 70,000 fans might be expected to attend a college football game there.
But the Houston Oilers arrived in 1960 (they themselves played in the stadium from 1965 to 1967), Rice football stopped being competitive in the
Southwest Conference after 1961, and the stadium has not sold out for a college football game since the early 1960s (the average attendance
for Rice football games in Rice Stadium in 2005 was 10,072).

In 1974, Rice Stadium hosted Super Bowl VIII, in which the Miami Dolphins beat the Minnesota Vikings 24-7.

Rice Stadium is large enough to seat every alumnus of Rice University, living and dead.