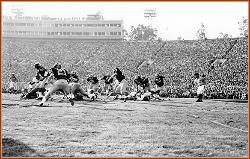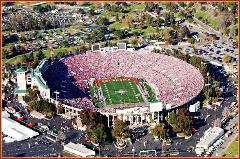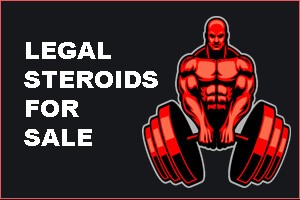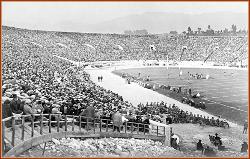 Vaught-Hemingway Stadium at Hollingsworth Field is an outdoor football stadium located on the University of Mississippi's main campus in
Oxford, Mississippi. It is primarily used for American football, and is the home field of the Ole Miss Rebels.

Built starting in 1915 as a federally-sponsored project, a series of expansions and renovations have gradually expanded the stadium and
modernized its amenities, allowing the Rebels to play all of their home games on campus. Prior to the early 1990s, Ole Miss would play many of
its big rivalry games, including the heated feuds with LSU and Mississippi State, at Mississippi Veterans Memorial Stadium in the state capital of
Jackson, located approximately 170 miles south of the Ole Miss campus. The Ole Miss-MSU game, commonly referred to as the Egg Bowl, was
held in Jackson every year from 1973 through 1990 before returning to a home-and-home series.

The most recent expansion, completed in 2002, replaced the south end zone bleachers with a rounded bowl, adding luxury boxes and covered
club seating in an upper deck, as well as additional general admission seating for students and season ticket holders; these renovations
expanded seating capacity by nearly 10,000, giving Vaught-Hemingway a capacity equal to that of the stadium in Jackson. Long-term plans call
for similar improvements to the north end zone, to complete the "bowl".

Other notable upgrades include the installation of lights in 1990, a JumboTron in 1997 and the replacement of the natural grass turf, which had
become increasingly hard to maintain, with an AstroPlay artificial turf surface in 2003.

In 2004, the adjacent indoor practice facility and locker room facility was opened, including a full-size artificial turf field.