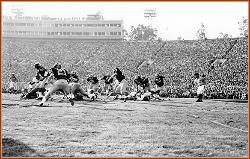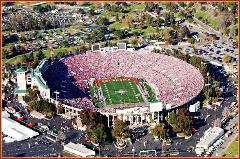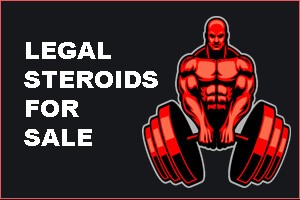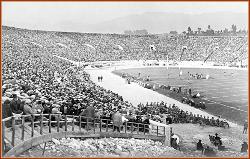 Wallace Wade Stadium is a stadium on the campus of Duke University in Durham, North Carolina. Primarily used for American football, it is the
home field of the Duke Blue Devils. It opened in 1929 with a game against Pitt, as the first facility in Duke's new west campus. The
horseshoe-shaped stands are elevated six feet above the track, which has two 220-yard straightaways. Seating for the stadium is for 33,941
people. Originally named Duke Stadium, it was renamed in 1967 for the legendary Duke football coach, Wallace Wade.

The stadium is most notable for being the site of the 1942 Rose Bowl Game. Duke had won the invitation to the game as the eastern
representative for the second straight year. However, with the attacks on Pearl Harbor coming just weeks after the end of the 1941 season,
travel restrictions were placed on the West Coast, thus meaning not only could the Rose Bowl itself not host the game, but neither could
Oregon State, the host team from the PCC. The Rose Bowl committee originally planned to cancel the game, but the University invited the game
and Oregon State to Durham to play the game. The offer was accepted, and on a cold, rainy January 1, 1942, 55,000 fans, 22,000 of which sat
on bleachers borrowed from N.C. State and UNC, watched the heavily favored Blue Devils fall to the strong defense of the Beavers. It is still the
only time the game has been played outside of Pasadena.

On October 8th, 2005, the stadium hosted a large crowd for a Rolling Stones concert.