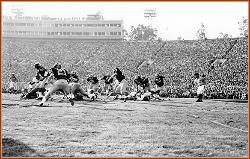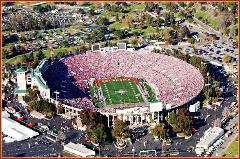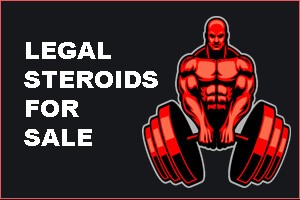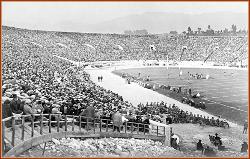 Cleveland Browns Stadium is a football stadium located in Cleveland, Ohio (41°30′21.51″N, 81°41′58.5″W). It is the home of the Cleveland
Browns NFL franchise. The stadium sits on 31 acres (13 ha) of land on the shores of Lake Erie and has a capacity of at least 73,200. The
normal use of Cleveland Browns Stadium is only for football; however, the stadium was built with a playing surface large enough to allow it to host
international soccer matches.

Cleveland Browns Stadium sits on the former site of Cleveland Municipal Stadium, which housed the Browns before owner Art Modell moved the
team to Baltimore to become the Ravens. As part of the deal that brought a "new" Browns team to Cleveland, the city of Cleveland tore down
Cleveland Stadium after the 1996 NFL season to make room for the new facility. Debris from the former stadium was submerged in Lake Erie and
now serves as an artificial reef. Ground was broken on May 15, 1997, the stadium opened in July 1999, and the resurrected Browns debuted
there in the 1999 NFL season. The stadium also hosts the annual Ohio Classic college football game.

The city chose not to sell the naming rights to the stadium itself; this is very unorthodox for major American stadiums built in recent years.
However, the naming rights to all four of the facility's gates were sold. The names of the gates are Cleveland Clinic Sports Health Gate located in
the Southwest corner, National City Gate located in the Southeast corner, STERIS Gate located in the Northeast corner, and FirstEnergy Gate is
located in the Northwest corner of the stadium.

The stadium is also home to the notorious "Dawg Pound", a section of bleacher seats whose occupants are commonly regarded as some of the
most passionate in football.

The West 3rd Street station of Cleveland's Waterfront light rail line serves the stadium.

A major criticism of the facility is that over a quarter of a billion dollars was spent on a venue that is only guaranteed to be used for ten events
each year (eight regular season and two preseason football games). Many civic leaders in Cleveland contend that a domed stadium,
constructed closer to the central business district, could have doubled as a much needed replacement for the aging, cramped Cleveland Public
Auditorium and Convention Center.

A renewed call for a domed stadium came in May 2006, when a campaign was started by local Cleveland business leaders to attract a Super
Bowl to the city. [1] [2] The group pushed for a new retractable roof to be added to the existing stadium, since it is considered highly unlikely that
the NFL would award the game to an open venue in a cold weather city such as Cleveland.

Additionally, the land on which Cleveland Browns Stadium now sits could have been used to further develop the underutilized Lake Erie
shoreline for residential and business purposes.